It's 100 years since Richard Tawney began his historic Tutorial Classes in Longton and Rochdale and, last month, there was an excellent event in Stoke Museum and Art Gallery to celebrate. I was struck by the idea that the WEA has been working in these communities for over 100 years and that, although what we do now is different to what we did then, there are some important common themes. In the case of our work now and then, partnership is key -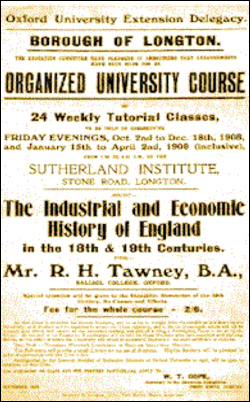 whether with a university, a local authority or a primary care trust. Moreover, its a true partnership where the WEA works with communities to articulate a need and where the communities themselves are partners in shaping the provision involved. Secondly, good tutors and staff who understand their subject and the needs, issues and aspirations of adults coping with inequality and disadvantage and are at ease working in these situations.
 The West Midlands Region of the WEA has been transferring lessons drawn from its Tandrusti work in Dudley  to its work in communities in Stoke on Trent. These characteristics are strongly evident in this approach and in some rese

arch work undertaken that arose from it (Download Tandrusti Research).
Since the completion of the Informal Adult Learning consultation, the Department of Innovation Universities & Skills has been exploring the potential of self-organised learning. You can look at that idea in two ways: one as a cheap and cheerful solution; the second as an important way to build social cohesion and re-connect with adults enthusiasm to use education to change their lives and improve things for their families and communities. That needs more than a commissioning approach and a set of contract focussed providers - it needs a commitment to engaging with  communities and forging alliances with progressive elements (often individuals) in education and public services that respect people and wants them to shape change.
We need to find a way to persuade government of the value of this second approach to self organised learning.